JAN JIRÁSEK
JITRO CZECH GIRLS CHOIR |  JIŘÍ SKOPAL CONDUCTOR
OVERVIEW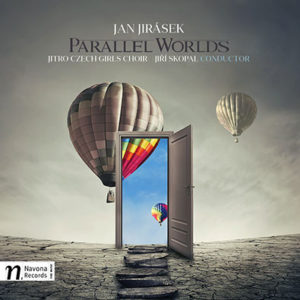 With PARALLEL WORLDS, Czech composer Jan Jirásek provides a portal into his intricately textured and resonant choral music. These works are enhanced by Czech children's choir JITRO, whose singers imbibe Jirásek's delicate and earnest compositions with authority, maturity, and captivating grace.
A varied collection of Jirásek's sacred and secular choral music, PARALLEL WORLDS reveals the composer's affinity for non-traditional sounds, as well as vocal forms rooted in Renaissance and Medieval traditions. These subtle, period-based influences are most evident in the nuances of compositions such as works like Missa Propria that evoke the voice-leading techniques of Italian Renaissance composer Carlo Gesualdo.
Most obvious of these subtleties is Jirásek's contrast of polyphony and monophony in Missa Propria and Si, Vis, Amari, Ama, which use chant-like melodies scored for the entire choir. These moments strongly recall the structural role of Gregorian chant in Medieval, Renaissance, and even later musical settings of the mass text.
King Lávra presents a subtler allusion to earlier eras of choral music, as its dramatic scoring recalls the Medieval genre of the liturgical drama. This composition is also one of several works on this album to feature atypical sounds, including percussive vocal sounds ranging from spoken text to individual isolated consonants. Jirásek's use of a pair of scissors as a percussion instrument on King Lávra is a brilliant and wholly unpredictable reinterpretation of a mundane object, and the clear, precise attack of the swiftly closing scissors works impressively well with the piano and vocal forces.
Throughout PARALLEL WORLDS, Jirásek's creations are vibrant and profound, often suggesting the choir's singing is filling an enormous venue. The composer constantly plays with layering fixed materials, and he often manipulates the density of these musical strata to pull the listener through his intricate compositional mazes.
HIGHLIGHTS
A composer of acclaimed works for film, concert, and recordings, Jan Jirásek's writing was described by Samuel Hendricks as "subtle, superb arrangements that give clear expression to his musical ideas which, like those of any honest artist, are concerned not with the mask of art but the face behind it"
Jirásek draws from Renaissance and Medieval influences, which inform his use of chant-like melodies that often contrast with more polyphonic material. Unusual sounds – vocal and otherwise – also appear across the album, such as vocal glissandi and a pair of scissors.
Sonagrama Magazine has lauded Jirásek's compositions as "vibrant and passionate creations" full of "jubilant moments"
Formed in 1973 by Josef Vratil, JITRO is an award-winning children's choir from the Czech Republic comprised of around 350 young singers ranging between five and 19 years of age. Since 1977, Artistic Director and Chorusmaster Jiří Skopal has the led the choir through many European, Asian, and American tours and international choral competitions
Noting that "jitro" means "daybreak" in Czech, BBC Music Magazine deemed this an apt description for the chorus' "bright, gleaming" performances, which are "indeed like brilliant rays of sunshine slicing through the darkness."
BBC also praised the musical cohesion of JITRO and Jirásek on previous Navona release CZECH AND MORAVIAN CHRISTMAS CAROLS, raving that the "sheer ripeness and vibrancy of the singing…is infectious, and when you add the peppery arrangements of composer Jan Jirásek to the mix…this sequence of Czech and Moravian carols becomes irresistible"