"Jirásek's subtle, superb arrangements give clear expression to his musical ideas which, like those of any honest artist, are concerned not with the mask of art but the face behind it."

Samuel Hendricks, sleeve note of the CD "Renaissance of Humanity" (BMG Classics, New York 1995)

Born in Rychnov nad Kneznou, Czech Republic, Mr. Jirásek graduated at the Janáček Academy of Musical Art in Brno (JAMU), composition with Prof. Zdeněk Zouhar as well as electro-acoustic, computer and electronic music and music theory.
After the fall of the Iron Curtain in 1989 Jirásek's music was widely performed – "Bread and Circuses" (Munich biennale 1992), postmodern recomposition of J. S. Bach's "St. Luke Passion" (Munich biennale 1996, Minneapolis, USA 2000), Concerto for Organ and Orchestra "Dance with the Universe" (J. Essl: organ, Portland Chamber Orchestra, dir. Yaacov Bergman, 2012), choral piece "Missa propria" (Prague Spring Festival 1994 and 2014, Carnegie Hall, New York, Lincoln Center, New York, Avignon Festival, Francie e.g.), "Fragile Balance / Letter to Heaven" (Vega String Quartet, Atlanta 2012), "King Lavra" (micro-opera, Khorikos New York, 2013) etc.
Jirásek's music is published by Ricordi, Berlin, Schott Musik Int., Mainz, Editio Baerenreiter, Prague and Musica Mundana Musikverlag.
Mr. Jirásek's music was recorded on labels like BMG Classics ("Renaissance of Humanity" with music by Jan Jirásek, Arvo Pärt and Hildegard von Bingen), BMG-Ariola ("Bread and Circuses"), Navona Records ("Parallel Worlds", "Czech and Moravian Christmas Carols"), etc.
Mr. Jirásek writes a lot for films. He was awarded with the prestigious film music prize "The Czech Lion" for movie "Nejasná zpráva o konci světa" (An Ambiguous Report About the End of the World) – dir. Juraj Jakubisko and for movie "Kytice" (Wild Flowers) – dir. F. A. Brabec. Films with his music received Tokyo Sakura Grand Prix Award, The Jerusalem Prize, e.g.
Jan Jirásek won Fulbright Fellowship and spent the academic year 1996 – 97 as a visiting professor of composition in USA (Hartt School of Music, University of Colorado at Boulder). He taught and teaches composition at different universities in USA and Europe (Colorado College, Florida International University, University at Lehigh, Universität für Musik und Darstellende Kunst, Vienna, ISAM, Ochsenhausen, Noosa ISAM, Australia, etc.).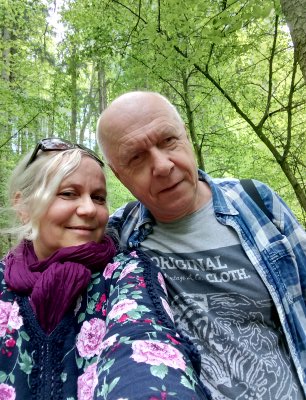 Jan Jirásek with his wife Vladislava